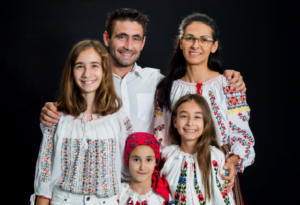 Ionuţ and Cristina are sent to serve by Betel Church from Constanţa, in partnership with GBA ships.
Ionuţ turned to God after he met Cristina through a personal experience with the Lord in the church they are part of. There they also understood God's calling to serve the people from the whole world.
They got married in 2009 and God blessed them with three daughters.
Starting from 2016 they serve on Logos Hope ship with another 400 people from over 60 countries and they are engaged in discipling youth volunteers on the ship, interacting with local people working in maritime and military fields in ports, and also providing relief for communities in need.
Donate