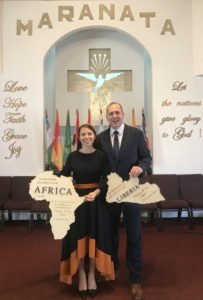 Christian was born and raised in Germany, in a healthy Christian family, and was baptized in 1996. In 1998 he enrolled in a Discipleship Training School (DTS), where he received the call to be a missionary. In 2006 Christian joined the organization Mercy Ships, and for three years he served on a hospital ship, bringing healing and hope to the underdeveloped countries of Africa.
When he arrived in Liberia, West Africa, he felt that God wanted him there for long term. In 2010, Christian moved to Liberia and joined the ministry of Youth With A Mission (YWAM), with the purpose of making disciples for Christ. Currently, Christian is the director of this YWAM base. His sending organization in Germany is Kontaktmission.
Ileana (Hrișcă) was born and raised in Constanța, Romania. She grew up in a lovely Christian family, enjoying the mentorship of her parents, the fellowship of her two brothers and six sisters, while her home church ("Maranatha", Murfatlar) offered her a solid spiritual formation. Friends and family call her Ina. She also got baptized in 1996. For the last fifteen years (2007-2022) she served as the Executive Director of the Romanian Centre of Cross-Cultural Studies (CRST) in
Constanța. Her call to missions became clear only in 2006, after attending a mission's camp, and she knew that the time would come to move from the mission school to the mission field. This happened in January 2023, when she moved to Liberia with her husband.
Christian and Ileana got married on April 30th, 2022. Their ministry in Liberia includes leading the YWAM base; another role that they are fulfilling is that of APME regional coordinators, for all APME missionaries who are serving in Africa.
Donate
Missionaries in Africa