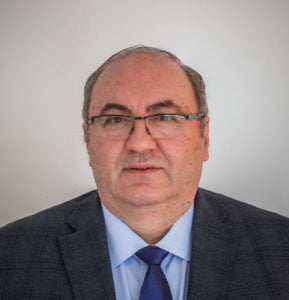 Pastor Ioan Moldovan was born in an Orthodox Christian family on the 16th of March 1961 in Borza, Sălaj county.
In 1986 he graduated from Petroșani Mining Institute.
In 1998 he graduated from Bucharest Pentecostal Theological Institute.
In 1991 he was ordained as a pastor and he served in several churches in Aleșd area. Now he is the pastor of Muntele Sionului Pentecostal Church in Aleșd and Speranța Pentecostal Church in Oradea.
Starting from 1998 he was the president of Pentecostal Regional Community. Then, he became vice-president. From 2006 to 2010 he had been vice-president of the Pentecostal Christian Denomination. Also, for several years, he has had a leadership role in the Evangelical Alliance in Romania.
In Pentecostal Christian Denomination he is leading the Evangelism and Mission department and founded AREA Foundation (domestic mission) for which he is president now.
He is married to Adriana from 1984 and together they have 3 children: Damaris, Otniel, and Daria.