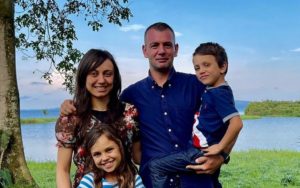 Florin and Daniela are sent on missions in Uganda by the Alfa și Omega Pentecostal Church from Turda in partnership with the Alpha and Omega Church from London.
They met in London and got married in 2010 and God gave them two wonderful children – Naomi and Isaac Paul.
Florin turned to God when he was 28 and after that he felt a passion in his heart for missions, especially for the African continent. They reached for the first time there in 2011 and they moved to Uganda in 2013.
They are engaged in church planting, children ministry, providing relief to sick people, and building churches and small houses in remote areas. Their purpose in ministry is to plant churches in areas where there are none and to take the Gospel to difficult places where no one goes.
Donate
Missionaries in Africa