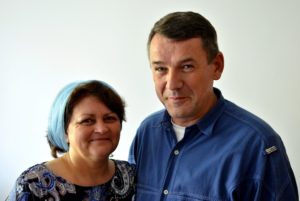 Marius and Margareta are sent by Izvoru Vieții Church from Reșița on the mission field in Uganda where they are serving from 2016.
In a very difficult time of Marius' life after a very serious work accident by electric shock, God guided his steps towards Cezareea Church from Reșița where he gave his life in His hand. Margareta turned to God in the same church attending it with one of her previous school mates.
They met and got married in 2004 and got from God the calling to missions in 2012 after a testimony of a worker on the mission field in Africa.
They are engaged in ministry among tribes of Sudan, Congo, and North-West Uganda people in the following ways: evangelism, counseling, teaching, helping, church planting among local people and among the communities in the refugee camps staying in this area.
Donate
Missionaries in Africa