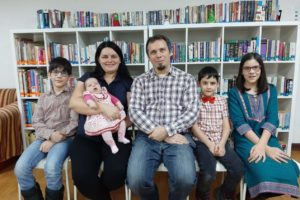 Uțu and Betty with their three children – Rebeca, Iosua, and Caleb, are sent in foreign mission by the Emanuel Pentecostal Church from Sibiu and serve in an East Asian country from 2015.
They are involved in disciple making and mobilizing the local believers to evangelism and missions. In 2019 they also emphasized the family ministry organizing monthly meetings where the non-Christian spouses started to join.
After these years of serving, they are happy to see a team of believers that are involved in various departments of the church. Also, the missionaries manage a Christian library where they teach English and coordinate activities with children, meetings with women and other events, all these to build relationships and to evangelize. Besides these, they regularly visit the churches in other areas to teach and encourage them.
Donate
Missionaries in Asia